16th June marked the staging of the inaugural FJN Cup at Horsham FC in partnership with Wolfram UK, GBG, H&P and Lexxika.
The sun shone, the conversations flowed, money was raised and there were some fleeting bits of footballing brilliance. Some great comedy moments too….
The tournament was made up of 10 teams from the insurance industry :
Allianz, Aston Lark, Now Health International, GBG, Charles Taylor Assistance, BUPA Global, Clear Group, Engage, AXA Global and FJN. Special thanks to Tola Juba, Richard Grover, James Austin, Ricardo Medina, Amit Bhudia, Victor Ioannides and Derryn Yong for representing team FJN.
Team GBG kicked off proceedings on Pitch A against Laurent De Veyrac's Now Health International while BUPA Global and Engage locked horns on Pitch B. Both games resulted in 1-0 victories to Engage and Now Health.
After 3 and a half hours of group games, Allianz ran out winners of Group A and Aston Lark triumphed in Group B. Both teams had identical records of 3 wins and 1 draw from the group stages – Allianz on plus 10 goal difference and Aston Lark, who did not concede a goal throughout the group stage, on plus 9.
The runners up spots were claimed by Now Health International, who just pipped GBG to the semi final spot from Group A, and BUPA Global who edged out AXA on goal difference after a nail biting finish to Group B.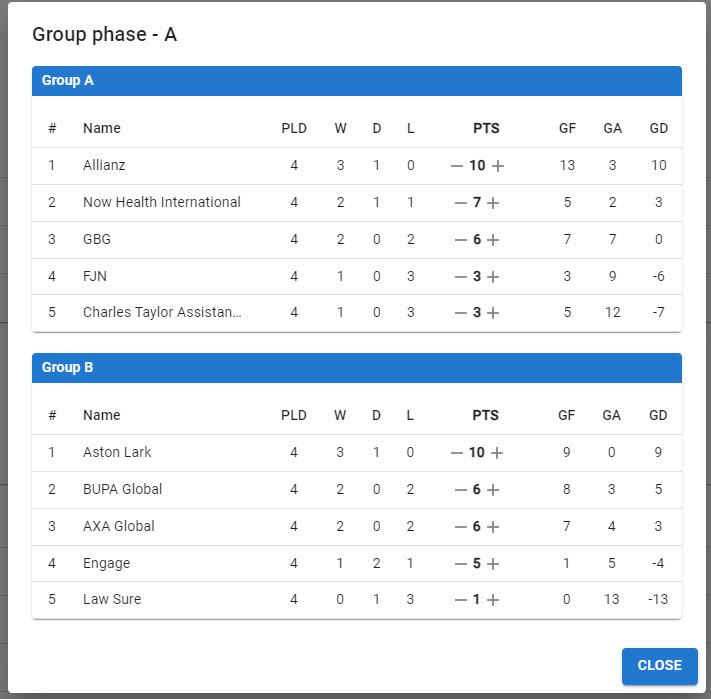 The semi finals were contested in competitive fashion by each group winner against the runners up from the other group. Both games were hard fought affairs and both finished 1-0. Pitch A saw Aston Lark beat Now Health International with a Tom Halls strike, and Pitch B saw Allianz defeat Bupa Global 1-0 with a fine finish from Tom Causton.
So, to the final! Having not conceded a goal all tournament, Aston Lark looked a very tough team to beat. Allianz on the other hand were the tournament's top scorers with 14 goals from their 5 games. Who would come out on top???
It was a fiercely fought contest with both keepers making fine saves before Scott Drummond-Payne (who had punctured a lung earlier in the tournament!) took the lead for Allianz. Allianz held on to the lead until the last couple of minutes before Aston Lark's Kyle Tomkins pounced to coolly slot away a late equalizer to send the contest to penalties.
The score was 2-2 after four penalties, leading us to a sudden death scenario! Cometh the moment, cometh the man! Paddy Lawlor of Allianz firstly stepped up to bury his penalty convincingly before putting the gloves back on to save Aston Lark's final kick.
Final score, Allianz 1 – Aston Lark 1 (Allianz win 3-2 on penalties).
The event was to raise funds and awareness for little known charity, Wolfram UK. £1,111 was raised on the day. Thank you and well done to all involved!
Same again next year…..